US Christmas Retreat Concludes: Jesus as Savior Giving Authority of the Son for Kingdom of God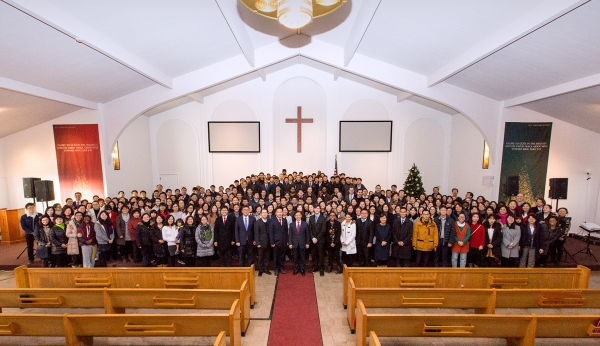 Dec 25th, The 2017 US Leadership Christmas Retreat concludes in the great blessing of God in New York. The Christmas Day Service included a sermon from the Rev. David Jang describing Jesus as Savior for a world that was condemned to death and eternal punishment.

After Jesus' death and resurrection, the Son gives saved sinners His authority and power to spread the Gospel to the ends of the earth for the establishment of the Kingdom of God.

Like Us on Facebook
The Rev. Jang began by looking at the work of Jesus who did not condemn the sinners as in John 8, where he says "neither do I condemn you." He compared this to Romans 8:1 where it states that "there is now no condemnation for those who are in Christ Jesus."

To know Jesus means to know the savior, to know God is the one who saves. It is immeasurably good news that the Son of God came on this earth. Philippians 2 describes Jesus taking the image of a servant, an image of self-lowering to reveal the gospel. It is love that he carried our sin and resurrected. That is the process of victory and love revealing glory.

There is a savior. The King have came. Christos. In Hebrew it's the Messiah, the one anointed with oil. The entire lake is decayed but there is the new spring of water that comes out.

Jesus speaks about the glory, right before the event of the cross, after Judas left. In John 17:2 it states:

"Father, the hour has come. Glorify your Son, that your Son may glorify you. 2 For you granted him authority over all people that he might give eternal life to all those you have given him."

He forgave our sins and allowed us to enter the eternal world.He revealed everything completely shown about God clearly. In the period of the Romans, there is a case where you are adopted. The rule states that slaves must be sold and bought three times to become an adopted son. Once adopted, they possess the rights of a true son who was born naturally. Jesus says the first and you are the ones who come later; all the authority He give.