Elim Center Intl Commemorates 9th Anniversary in Kirkwood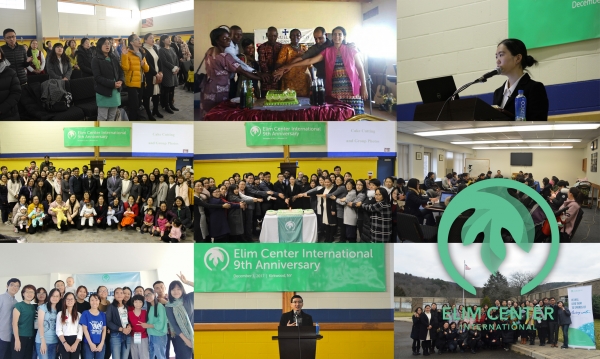 By the great grace of God, Elim Center Intl celebrated its 9th anniversary on December 3, 2017 in Kirkwood headquarter with leadership, giving thanks to God's blessings towards Elim during the past nine years and looking to the brighter future together.

Like Us on Facebook
The executive director of Elim Center Intl, Faith Kim delivered the sermon based on James 5:17-18 and 1 Kings 18:41-46 to encourage all Elim staffs and visiting members to learn the faith and attitude of prayer in prophet Elijah, and to have the dream to be another Elijah in this generation who can terminate the spiritual famine and bring down the heavy rain of heaven. "Elijah was a human being, even as we are. He prayed earnestly that it would not rain, and it did not rain on the land for three and a half years. Again he prayed, and the heavens gave rain, and the earth produced its crops." (James 5:17-18)

Deborah Yoon, the representative of Elim Japan and Joel Kim, the representative of Elim Korea shared their testimonies after the sermon to testify God's love and grace both in their spiritual journey and ministry works. All the attendees gave glory and honor back to God for all His mercy and mighty works.

Elim Center Intl is full of gratitude to God and to all members' support and love. They will keep praying and serve harder in the coming year 2018.