First Day of Christmas Retreat at APOC Concludes with Fiery Prayer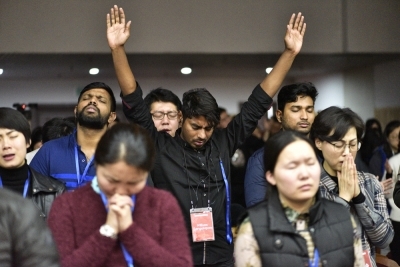 On the first day of Asia Pacific Christmas Retreat, the schedule was finished with a fiery praise prayer meeting. After learning the ideal of the Creation and our purpose, participants meditated on the love and they poured everything before the Lord Jesus and had time to pray earnestly.

Like Us on Facebook
Pastor Nathan Hwang, led the praise and prayer, saying "This time we want to be open to the Lord who knows all things, and to be our time for all our eyes."

Prayer for repentance, reconciliation, and restoration followed, and also participants prayed that the retreat period would be the only time to know God. They also praised God who loves us, reigns us forever, and gives Him glory for His eternal love.

There were also those who kneeled forward to pray earnestly, and the ministers of Elim also prayed with their Spiritual gifts and intercession for the attendees.

A prayer shared "From the First day, God poured heavy rain of grace. We're waiting with anticipation of grace that God will pour throughout the retreat."