Olivet University Faculty and Students Were Featured on the Christian TV Channel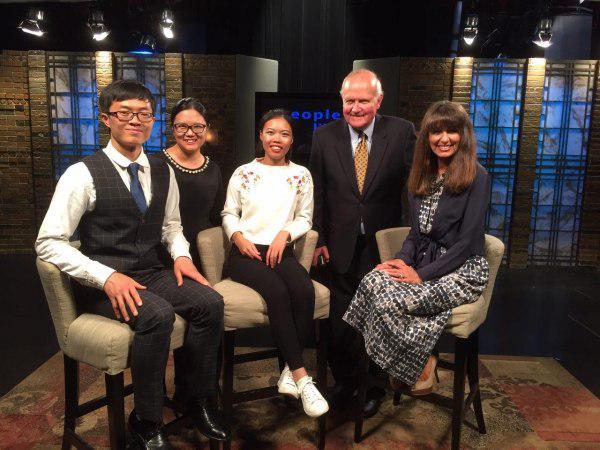 Olivet University faculty and students were featured on the KTLN Christian TV Channel talking about the book "Study of 32 Bible Topics with Real Stories for Young People". Four Olivet University affiliates attended the taping of the episode "People Like You" in San Rafael, a 34-minute drive from the OU San Francisco campus.

Like Us on Facebook
Debbie Fraser, the president, and CEO of KTLN, welcomed the Olivet team warmly. The tapping was divided into 3 segments: an Interview with the Olivet students, an interview with the faculty, and an interview with Dr. Cowley on Bible Literacy.

OU Students Isaac Wang and Olivia Lin were interviewed by Fraser. They introduced themselves and shared their background. "I came to the faith when I was 18 years old in Mainland China. I realized that the Christian faith can change the world," shared Isaac Wang, graduate of Olivet University. Olivia Lin added that she ultimately chose to come to America in order to better understand the salvation of Jesus Christ.

Afterward, two professors were asked about the structure of their Bible studies. Dr. Rachael Mak introduced herself with the topic, "suffer", and she shared in the book how the Holy Spirit showed her the suffering of God throughout her 10 years of experience in mission.

Fraser showed her appreciation to Dr. Cowley, a successful business man who now focuses on raising young people. The episode was recorded with the guidance of the Holy Spirit. The Olivet team testified that the 90 minutes of production was smooth and graceful.

Dr. Cowley brought them to the Golden Gate Bridge and drove them back and forth to the OU campus. "We are really thankful to have such a thoughtful and considerate senior professor who always gives to the young people from his heart!" testified Dr. Mak.

The tape will be edited and will air on TV in San Francisco and Chicago this Fall 2017. May God bless this episode and reveal His glory through His servants. Amen.